Ca Mau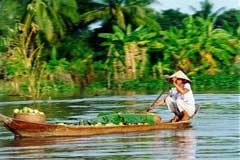 Ca Mau is in the Mekong Delta area at the far south of Vietnam. The town itself does not offer much of interest but anyone keen on botany or nature will find the swamps that surround Ca Mau an area of great interest. Unfortunately the area is a particulary good breading ground for mosquitoes which come out in force at night, especially during the rainy season. Make sure you take plenty of insect repellant and that your hotel has effective mosquitoe netting.
Getting There
The most practical route is from Ho Chi Minh City by express bus which takes 7 to 8 hours. The bus station in Ca Mau is a little way out of the town but there is an effective shuttle service to the town centre. You can buy return tickets from the office in Ca Mau town.
Hotels in Ca Mau
Below is a list of hotels in Camau sorted by price range (highest first). If you wish to telephone a hotel the area code for Camau is 0780 (+84780 from outside Vietnam).
Camau Hotel


Price Range: Up to $50 per night
20 Phan Ngoc, Camau (Tel: 831165, Fax: 835075)

Phuong Nam Hotel


Price Range: Up to $25 per night
91 Phan Dinh Phung, Camau (Tel: 831752, Fax: 834402)

Hai Chua Hotel


Price Range: Up to $25 per night
Hung Vuong, Camau (Tel: 831255)
RezEasy PMS
Cloud-based PMS offering real-time access from any desktop computer or tablet anytime, anywhere.
RezEasy Portal
Hotel Portal lets you make deals directly with accommodation owners and take bookings on your website.
RezEasy Booking Engine
Beat the steep commission structure that eats into your revenue by driving direct sales through your website.