Dalat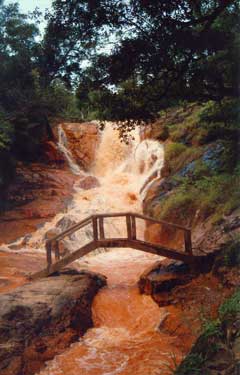 Dalat is located in the Central Highlands 300km from Ho Chi Minh City and 750km from Danang, and is surrounded by forests and lakes. The area is cool and very pleasant which probably accounts for Dalat's popularity with Vietnamese tourists and newly weds. Apart from tourism flower growing is one of the major industries. The Dalat Flower Garden can be found on Vuon Hoa and is worth visiting.
There are numerous attractions in and around Dalat. Xuan Huong Lake in the centre, Cremaillere Railway 500 metres to the east, Bao Dia' Summer Palace and Cam Ly Falls plus many pagodas, churches and the Dalat Cathedral. 5km north of Xuan Huong Lake is the Valley of Love where you will find "Dalat Cowboys", paddle boats and large canoes that seat 12 to 15 people.
Outdoor types will enjoy hiking or bicycling in the countryside that surrounds Dalat. Try Prenn Pass and Quang Trung Reservoir as a starter. Action Max on Nguyen Thai Hoc offer paragliding, canyoning and treks.
Prenn Pass and Prenn Falls
An excellent area for hiking, bicylcing and horse riding. The area stretches along highway 20 from Dalat to Datania Falls. Prenn Falls is located 13km from the centre of Dalat towards Phan Rung.
Quang Trung Reservoir
The area around the reservoir is being developed as a tourist attraction so you can rent paddleboats, rowboats and canoes at various places. You will also find several cafes close to the dam.
Datania Falls
The path to Datania falls is about 200 metres after the turn-off to Quang Trung Reservoir on Highway 20. You walk for about 400 metres through pine trees and a rain forest to reach the falls.
Places to Stay & Eat | List of Da Lat Restaurants