Hai Phong - Vietnam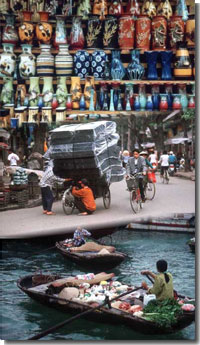 Haiphong is one of Vietnam's most important sea ports and the main industrial centre of the north. It is also the third largest city in Vietnam. The French colonial architecture adds to the city's appeal. Nearby Do Son Beach can be reached in about 40 minutes. Two other places worth visiting are Hang Kenh Tapestry Factory and Hang Kenh Communal House. 5km outside Haiphong you will find Dang Hai Flower Village.
From Haiphong you can catch the hydrofoil to nearby Cat Ba Island or take a bus or taxi to Halong Bay
Getting There
Buses make the 100km journey to and from Hanoi several times per day. The new expressway makes the journey quick and comfortable. There is also a train service from Hanoi that takes between 2 and 2¾ hours depending on which one you take.
Hotels in Hai Phong
Below is a list of hotels in ? sorted by price range (highest first). If you wish to telephone a hotel the area code for Haiphong is ? (+84 from outside Vietnam).
Tray


Price Range: Up to $65 per night
Hai Phong

Royal Harbor View


Price Range: Up to $85 per night
Tran Phu Street 4, Hai Phong

Huu Nghi Hotel


Price Range: Over $100 per night
64 Pho Dien Bien Phu (Tel: 823310, Fax: 823245)

Navy Hotel


Price Range: Up to $70 per night
27C Pho Dien Bien Phu (Tel: 823713, Fax: 842278)

Cat Bi Hotel


Price Range: Up to $40 per night
30 Pho Tran Phu (Tel: 846306, Fax: 845181)

Ben Binh Hotel


Price Range: Up to $50 per night
(Tel: 842260, Fax: 842524)

Dien Bien Hotel


Price Range: Up to $50 per night
67 Pho Dien Bien Phu (Tel: 745264, Fax: 754743)

Thanh Lich Hotel


Price Range: Up to $25 per night
47 Pho Lach Tray (Tel: 847361, Fax: 847361)

Hotel du Commerce


Price Range: Up to $25 per night
62 Pho Dien Bien Phu (Tel: 842706, Fax: 842560)