Saigon Vietnam
Saigon (officially known as Ho Chi Minh City) is the largest city in Vietnam and the business centre of the country. The whole city is vibrant and full of character. Everywhere you will see street vendors, office workers, businessmen and the hectic traffic. Chic new cafes and bars, high rise office buildings, hotels, apartment blocks, colourful shops and markets, temples and pagodas - you will find them all in Saigon.
The most popular location for tourists in Saigon is District 1 in the centre of the city. You will find many hotels, restaurants, shops and Internet cafes in this area. To the south-west is District 5, Cholon, the Chinese district.
The Zoo and Botanical Gardens on Nguyen Binh Khiem make a pleasant change from the bustle of the city, and can be combined with a visit to the nearby history museum. Ho Chi Minh Museum at Nguyen Tat Thanh in District 4 houses many of Ho's personal effects. It is from here that Ho Chi Minh left Vietnam in 1911 beginning 30 years of excile.
Reunification Palace will be remembered by many from the dramatic news reel footage of the North Vietnamese crashing through its gates on 30th April 1975. Perhaps the most striking aspect of the palace is that it is preserved almost as it was 27 years ago. More....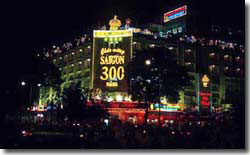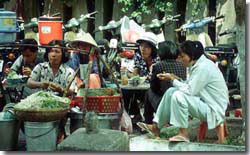 Getting There & Around | What to See

Hotels in Saigon | Saigon Restaurants

Saigon Bars/Clubs | Sports/Fitness

Medical/Dental | Travel Agents/Airlines | Books
RezEasy PMS
Cloud-based PMS offering real-time access from any desktop computer or tablet anytime, anywhere.
RezEasy Portal
Hotel Portal lets you make deals directly with accommodation owners and take bookings on your website.
RezEasy Booking Engine
Beat the steep commission structure that eats into your revenue by driving direct sales through your website.