Dong Hoi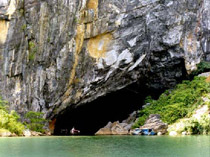 The fishing port of Dong Hoi is located approximately half way between Vinh and Hue. You will find plenty of beaches, stretching several kilometres, to the north and south so should not have any trouble finding a secluded spot. You will need to hire a car and driver or motorcycle in Dong Hoi to reach them.
55km to the north-west of Dong Hoi is you will find Phong Nha Cave which was designated as a World Heritage Site by UNESCO in 2000. The cave has many kilometres of underground passageways and river caves, the main cavern is almost 8km long.
Getting There
The bus from Hue takes about 2 hours you can also take the bus from Vinh which takes a similar amount of time to reach Dong Hoi. An alternative is to take the train that runs between Hanoi and Ho Chi Minh City.
Hotels in Dong Hoi
Below is a list of hotels in Dong Hoi sorted by price range (highest first). If you wish to telephone a hotel the area code for Dong Hoi is 052 (+8452 from outside Vietnam).
Phong Nha Hotel


Price Range: Up to $50 per night
5 Truong Phap, Dong Hoi (Tel: 824971, Fax: 824973)

Nhat Le Hotel


Price Range: Up to $50 per night
16 Quang Xuan Khi, Dong Hoi (Tel: 822180)

Hoa Binh Hotel


Price Range: Up to $50 per night
Ly Thuong Kiet, Dong Hoi (Tel: 822347)

Huong Quyen Hotel


Price Range: Up to $25 per night
18 Quang Trung, Dong Hoi (Tel: 825260, Fax: 825261)
RezEasy PMS
Cloud-based PMS offering real-time access from any desktop computer or tablet anytime, anywhere.
RezEasy Portal
Hotel Portal lets you make deals directly with accommodation owners and take bookings on your website.
RezEasy Booking Engine
Beat the steep commission structure that eats into your revenue by driving direct sales through your website.