Cao Bang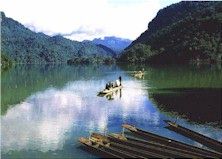 Located in north east Vietnam 270km from Hanoi and not far from the Chinese border Cao Bang is some 300 metres above sea level. This is an ideal base to explorer the surrounding countryside which has some of the best mountain scenery in this part of Vietnam.
There is a tourist information office just across from the bus station.
Getting There
Buses run from Hanoi to Cao Bang several times per day and take around 9 to 10 hours. You can also get a bus from Lang Son which is a little closer.
Hotels in Cao Bang
Below is a list of hotels in Cao Bang sorted by price range (highest first). If you wish to telephone a hotel the area code for Cao Bang is 026 (+8426 from outside Vietnam).
RezEasy PMS
Cloud-based PMS offering real-time access from any desktop computer or tablet anytime, anywhere.
RezEasy Portal
Hotel Portal lets you make deals directly with accommodation owners and take bookings on your website.
RezEasy Booking Engine
Beat the steep commission structure that eats into your revenue by driving direct sales through your website.