Lang Son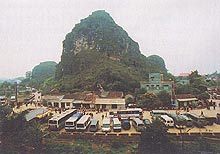 Lang Son is in the far north of Vietnam about 15km from the border with China. The town was partially destroyed in 1979 when Chinese forces invaded. However, this does seem to have affected trade between the communities either side of the border. The border post itself is heavily fortified so don't expect to spend the afternoon shopping in China. Just outside Lang Son you will find two large caves, Tam Thanh and Nhi Thanh. Both of the caves are illuminated so exploration is quite easy and very worthwhile.
Getting There
Early morning buses run from Long Bien station in Hanoi and take about 5 hours to reach Lang Son.
Hotels in Lang Son
Below is a list of hotels in Lang Son sorted by price range (highest first). If you wish to telephone a hotel the area code for Lang Son is 025 (+8425 from outside Vietnam).
Bac Son Hotel


Price Range: Up to $25 per night
41 Pho Le Loi, Lang Son (Tel: 871849)

Ngoc Mai Hotel


Price Range: Up to $35 per night
25 Pho Le Loi, Lang Son (Tel: 871807)

Dong Kinh Hotel


Price Range: Up to $35 per night
Lang Son (Tel: 870166)

Hoang Nguyen Hotel


Price Range: Up to $25 per night
84 Pho Tran Dang Ninh, Lang Son (Tel: 870349)

Hoa Binh Hotel


Price Range: Up to $25 per night
127 Pho Tran Dang Ninh, Lang Son (Tel: 870807)

Hoan Phuong Hotel


Price Range: Up to $25 per night
299 Pho Tran Dang Ninh, Lang Son (Tel: 870488)

Hoa Phuong Hotel


Price Range: Up to $25 per night
92 Pho Tran Dang Ninh, Lang Son (Tel: 871233)