Mytho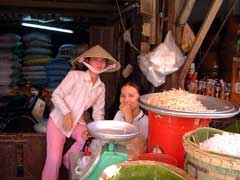 Mytho is located on the northern banks of the Mekong river and is the closest town in the Delta area to Ho Chi Minh City, about 2 hours drive away. In the centre of the town close to the river there is a large market that sells just about anything that can be eaten or is used in day to day business.
Around the Mytho area you will find a maze of small canals that can be explored on one of the many organised boat tours. You can book the tours in Mytho or book a day trip from Ho Chi Minh City. Other places to visit are the longan plantations on Dragon Island and the Dong Tam Snake Farm.
Getting There
There is a regular bus service from Mien Tay station in Ho Chi Minh City to Mytho beginning early morning. It takes about 2 hours to cover the 70km. There is also a hydrofoil service that runs to/from Ho Chi Minh City three times per week.
Hotels in Mytho
Below is a list of hotels in Mytho sorted by price range (highest first). If you wish to telephone a hotel the area code for Mytho is 074 (+8474 from outside Vietnam).
Chuong Duong Hotel


Price Range: Up to $50 per night
30 Thang 4, Mytho (Tel: 870875, Fax: 874250)

Song Tien Hotel


Price Range: Up to $35 per night
Lahn Binh Can, Mytho (Tel: 872009)

Rang Dong Hotel


Price Range: Up to $25 per night
25 Thang 4, Mytho (Tel: 874400)