North Vietnam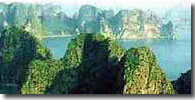 North Vietnam and the Red River Basin is generally a fertile area with a varied climate. Summers can be hot and dry and winters are cool and damp. North-east Vietnam is the best place to see hill tribe culture, here life seems to beat to a rhythm that has not changed in hundreds of years.
Halong Bay is one of the most spectacular pieces of coast in South East Asia. Its emerald green water and 3000+ islands cover almost 1500 sq km. The best know island in the Halong Bay area is Cat Ba.
Hanoi, the nations capital, is a city where Tranquil lakes, tree lined boulevards, elegant parks and charming old streets sit alongside Internet cafes, electronics stores and other shopping centres.
Use the links below or click a place on the map to find out more information.