Rach Gia
Rach Gia is a port town located at the southern end of Vietnam in the Gulf of Thailand. Its main industries are fishing and agriculture. There are several places of interest not too far from Rach Gia including Ha Tien about 100km north-west which has some unusual limestone formations. Many of the rock formations have caves that have been turned into temples.
Rach Gia is the place to catch a ferry if you intend to visit Phu Quoc Island by boat. The ferry leaves from Rach Gia Park at the west end of Nguyen Cong Tru street.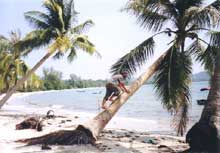 Getting There
Vietnam Airlines flies to Rach Gai from Ho Chi Minh City 6 times per week. Buses run to and from Ho Chi Minh City, Can Tho and Long Xuyen.
Hotels in Rach Gia
Below is a list of hotels in Rach Gia sorted by price range (highest first). If you wish to telephone a hotel the area code for Rach Gia is 077 (+8477 from outside Vietnam).
Bank Hotel


Price Range: Up to $50 per night
7 Huynh Tinh Cua, Rach Gia (Tel: 862214, Fax: 869877)

Palace Hotel


Price Range: Up to $25 per night
243 Tran Phu, Rach Gia (Tel: 863049)

Phuong Hoang Hotel


Price Range: Up to $35 per night
6 Nguyen Trung Truc, Rach Gia (Tel: 866525)

To Chau Hotel


Price Range: Up to $35 per night
16 Le Loi, Rach Gia (Tel: 863718)