Quang Ngai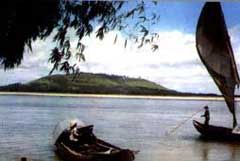 Quang Ngai is located about 180km north of Qui Nhon and 350km from Nha Trang. Just north of Quang Ngai, in the district of Son My, is the site of the infamous My Lai massacre when American soldiers killed hundreds of civilians. There is a memorial on the site of the killings.
A little way to the east of the My Lai Memorial is a long stretch of white sand beach called Bien Khe Ky. It is usually quiet with few vistiors. 27km south of Quang Ngai is the pretty seaside town of Sa Huynh.
Getting There
Quang Ngai is well served by buses from Buon ma Thout, Dalat, Danang, Hoi An, Nha Trang, Qui Nhon, Pleiku and Ho Chi Minh City. It is also a stop on the express from Hanoi to Ho Chi Minh City.
Hotels in Quang Ngai
Below is a list of hotels in Quang Ngai sorted by price range (highest first). If you wish to telephone a hotel the area code for Quang Ngai is055 (+8455 from outside Vietnam).
Central Hotel


Price Range: Up to $80 per night
784 Quang Trung, Quang Ngai (Tel: 829999, Fax: 822460)

My Tra Hotel


Price Range: Up to $60 per night
Just north of Quang Ngai (Tel: 842985, Fax: 842980)

Kim Thahn Hotel


Price Range: Up to $35 per night
19 Hung Vuong, Quang Ngai (Tel: 823471)

Hotel 502


Price Range: Up to $25 per night
28 Hung Vuong, Quang Ngai (Tel: 822656)

Vietnam Hotel


Price Range: Up to $25 per night
41 Hung Vuong, Quang Ngai (Tel: 823610)

Hoa Vien Hotel


Price Range: Up to $25 per night
12 Phan Chu Trinh, Quang Ngai (Tel: 823455)