Qui Nhon
If you are travelling by road between Danang and Nha Trang this is a convenient place to break the journey. The town is an active sea port and has a few beaches, the best of which is 2km south-west of the Municipal Beach. The central market is housed in a large modern building and there is an interesting pagoda (Long Khahn) just off Tran Cao Van street.
Getting There
Vietnam Airlines has daily flights from Ho Chi Minh City and 4 flights per week from Hanoi. The airport is some distance from the town but transport is provided to and from the airport.
Buses services run from Buon ma Thout, Dalat, Danang, Hue, Hanoi, Nha Trang, Vinh and Ho Chi Minh City to Qui Nhon.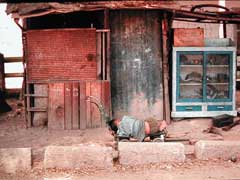 Hotels in Qui Nhon
Below is a list of hotels in Qui Nhon sorted by price range (highest first). If you wish to telephone a hotel the area code for Qui Nhon is 056 (+8456 from outside Vietnam).
Quy Nhon Hotel


Price Range: Up to $60 per night
8 Nguyen Hue, Qui Nhon (Tel: 822401, Fax: 821162)

Thahn Binh Hotel


Price Range: Up to $50 per night
6 Ly Thuong Kiet, Qui Nhon (Tel: 822041, Fax: 827589)

Hai Ha Mini Hotel


Price Range: Up to $25 per night
5 Tran Binh Trong, Qui Nhon (Tel: 891295)

Old Bank Hotel


Price Range: Up to $25 per night
257 Le Hong Phong, Qui Nhon (Tel: 823591)

Dong Phuong Hotel


Price Range: Up to $35 per night
60 Mai Xuan Thuong, Qui Nhon (Tel: 822915)

Houng Kim Hotel


Price Range: Up to $25 per night
369 Le Hong Phong, Qui Nhon (Tel: 828768)