South Vietnam & the Delta Area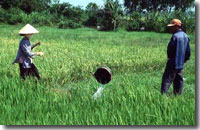 South Vietnam has a tropical climate with a dry hot season from December to April and a wet season from May to November. The highlands around Dalat are particularly pleasant for most of the year. The south also has some of the best white sand beaches and clear blue-green water in South East Asia.
The Mekong Delta is a lush and very fertile area that produces more than enough rice for the whole of Vietnam. You could spend weeks just cruising the hundreds of canals and visiting the numerous floating markets.
Ho Chi Minh City (Saigon) is vibrant and full of character. It is also Vietnam's largest city and the business centre of the country.
Use the links below or click a place on the map to find out more information.