Vinh
If you are travelling by road between Hanoi and Hue this is a convenient point to break the journey. There are a few things to see around Vinh but the town itself is not particularly interesting. 14km to the north-west is Kim Lien which is the house in which Ho Chi Minh was born and spent his early childhood. There is also a museum nearby. You can also visit Cua Lo Beach, a stretch of white sand shaded by pine trees.
Getting There
Vietnam Airlines has flights from Ho Chi Minh City to Vinh 3 times per week. Buses run to/from Danang, Hanoi, Buon ma Thout and Ho Chi Minh City. You can also get a bus to the Cau Treo border crossing if you are heading for Loas.
Vinh is also a stopping place for the Hanoi to Ho Chi Minh City express.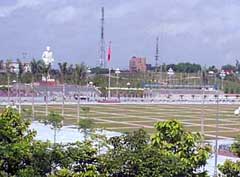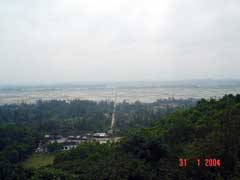 Hotels in Vinh
Below is a list of hotels in Vinh sorted by price range (highest first). If you wish to telephone a hotel the area code for Vinh is 038 (+8438 from outside Vietnam).
Saigon Kim Lien Hotel
Price Range: Up to $85 per night
25 Quang Trung, Vinh (Tel: 838899, Fax: 838898)
Huu Nghi Hotel
Price Range: Up to $70 per night
Le Loi, Vinh (Tel: 844633)
Nguyen Hai Hotel
Price Range: Up to $45 per night
81 Le Loi, Vinh (Tel: 848429, Fax: 832014)
Hong Ngoc Hotel
Price Range: Up to $50 per night
99 Le Loi, Vinh (Tel: 841314, Fax: 841299)
Nang Luong Hotel
Price Range: Up to $45 per night
2 Nguyen Trai, Vinh (Tel: 844788)
Thahn Lich Hotel
Price Range: Up to $35 per night
49 Quang Trung, Vinh (Tel: 844961)
Thahn Binh Hotel
Price Range: Up to $35 per night
33 Quang Trung, Vinh (Tel: 842512)