Long Hai
Long Hai is located 30km north-east of Vung Tau. Most interesting time to visit is just after the Tet festival when hundreds of fishing boats converge on Long Hai for the fisherman's pilgrimage and to worship at the Mo Co Temple. There are several places to visit quite close to Long Hai; the caves at Minh Dam, underground tunnels at Dia Dao, and the Chua Phap Hoa Pagoda.
Getting There
It takes about 2 hours to make the 120km journey from Ho Chi Minh City. You can also try to rent a car or motorcycle to take you from Vung Tau to Long Hai.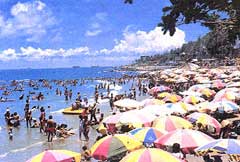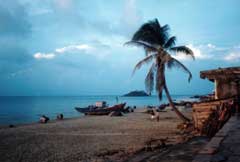 Hotels in Long Hai
Below is a list of hotels in Long Hai sorted by price range (highest first). If you wish to telephone a hotel the area code for Long Hai is 064 (+8464 from outside Vietnam).
Anoasis Beach resort


Price Range: Over $100 per night
Long Hai (Tel: 868227, Fax: 868228)

Thuy Duong Resort


Price Range: Up to $100 per night
Long Hai (Tel: 886215, Fax: 886210)

Tourism Hotel


Price Range: Up to $35 per night
Long Hai (Tel: 868312)

Rong Dong Hotel


Price Range: Up to $35 per night
Long Hai (Tel: 868356)

Military Guesthouse


Price Range: Up to $25 per night
Long Hai (Tel: 868316)

Palace Hotel


Price Range: Up to $25 per night
Long Hai (Tel: 868364)