Vung Tau - Places to Eat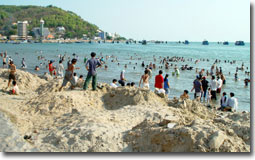 The north end of Bai Sau (Back Beach) has cheap cafes serving excellent food. There are many cheap noodles stalls along Bai Truoc (Front Beach). For a more substantial meal you could try Huong Bien restaurant at the end of Tran Hung Doa (near Duy Tan). Bai Dua (Roches Noire Beach) has a floating restaurant and Bai Dau (Mulberry Beach) has a few seafood restaurants on the sea front.
Hotels in Vung Tau
Below is a list of hotels in Vung Tau sorted by price range (highest first). If you wish to telephone a hotel the area code for Vung Tau is 064 (+8464 from outside Vietnam).
Rex


Price Range: From $40 per night
1 Duy Tan, Vung Tau

My Le


Price Range: Up to $65 per night
59 Thuy Van, Vung Tau

Sammy


Price Range: Up to $65 per night
133 Thuy Van, Vung Tau

Paradise Marina Club


Price Range: Over $100 per night
Vung Tau (Tel: 859687, Fax: 859695)

Petro House Hotel


Price Range: Over $100 per night
89 Tran Hung Dao, Vung Tau (Tel: 852014, Fax: 852015)

Royal Hotel


Price Range: Up to $100+ per night
48 Qunag Trung, Vung Tau (Tel: 859852, Fax: 859851)

Palace Hotel


Price Range: Up to $100 per night
1 Nguyen Trai, Vung Tau (Tel: 856265, Fax: 856878)

Hai Au Hotel


Price Range: Up to $65 per night
100 Ha Long, Vung Tau (Tel: 852178, Fax: 856868)

Cap Saint Jacques Hotel


Price Range: Up to $65 per night
2 Thuy Van, Vung Tau (Tel: 859519, Fax: 859518)

Crystal Heart Inn


Price Range: Up to $50 per night
143-5 Binh Gia, Vung Tau (Tel: 854043, Fax: 854044)

East Asia Hotel


Price Range: Up to $45 per night
249 Le Hong Phong, Vung Tau (Tel: 859412, Fax: 853630)

Saigon Hotel


Price Range: Up to $45 per night
72 Thuy Van, Vung Tau (Tel: 852317)

Rose Hotel


Price Range: Up to $25 per night
Ngoc Tuoc Hill, Vung Tau (Tel: 852633, Fax: 859262)

Pacific Hotel


Price Range: Up to $25 per night
4 Le Loi, Vung Tau (Tel: 852279, Fax: 852391)