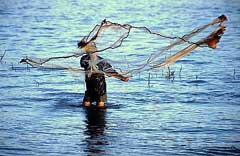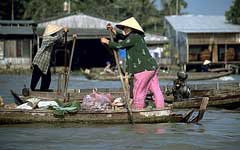 Chau Doc
Chau Doc is located on the banks of the Hua Giang River 245km west of Ho Chi Minh City very close to the Cambodian border. Most interesting places to visit are the temples and mosques. These vary in style according to the ethnic community to which they belong. You will also see many families living in floating houses that have metal fish cages beneath the floor. The fish grow quickly in their natural river environment and provide a handy source of food for the household.
Getting There
The express bus leaves from the Mien Tay bus station in Ho Chi Minh City and takes around 6 hours to reach Chau Doc. You can also get buses to/from Camau and Can Tho.
Hotels in Chau Doc
Below is a list of hotels in Chau Doc sorted by price range (highest first). Online booking is available for all recommended hotels, click the hotel name to view details. If you wish to telephone a hotel the area code for Chau Doc is 076 (+8476 from outside Vietnam).
Victoria Chau Doc


Price Range: From $80 per night
32 Le Loi Street, Chau Doc

Thanh Tra Hotel


Price Range: Up to $35 per night
77 Thu Khoa Nghia, Chau Doc (Tel: 866788)

Vinh Phuc Hotel


Price Range: Up to $25 per night
12-14 Quang Trung, Chau Doc (Tel: 866242)

Thuan Loi Hotel


Price Range: Up to $25 per night
18 Tran Hung Doa, Chau Doc (Tel: 866134)

Guesthouse 44


Price Range: Up to $25 per night
44 Doc Phu Thu, Chau Doc (Tel: 866540)

Hotel 92


Price Range: Up to $25 per night
92 Nguyen Van Thoai, Chau Doc (Tel: 866899)