Son La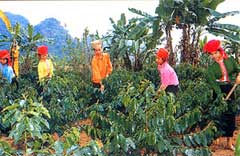 This is a good stop over point if you are travelling from Hanoi to Dien Bien Phu since it is approximately half way (time-wise) between the two. In the centre of the town is the old French Prison and Museum. In the prison grounds is a peach tree that was planted by To Hieu, a former inmate, some time in the 1940's.
Getting There
The bus trip from Hanoi is about 320km and takes around 12 hours. Son La to Dien Bien Phu is another 150km and 10 hours drive.
Hotels in Son La
Below is a list of hotels in Son La sorted by price range (highest first). If you wish to telephone a hotel the area code for Son La is 022 (+8422 from outside Vietnam).
Phong Lan Hotel


Price Range: Up to $50 per night
Son La (Tel: 853516)

Hoa Ban Hotel


Price Range: Up to $35 per night
Son La (Tel: 854600, Fax: 852712)

Hoa Doa Hotel


Price Range: Up to $25 per night
Son La (Tel: 853823, Fax: 853712)

Ngoc Hoa Guesthouse


Price Range: Up to $25 per night
Son La (Tel: 853993)

Phong Lan II Hotel


Price Range: Up to $25 per night
Son La (Tel: 852318)