Vung Tau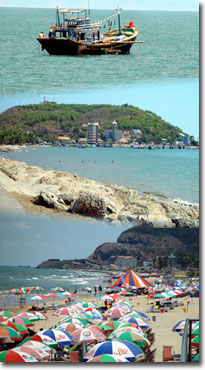 Vung Tau is located on the coast 125km south-east of Ho Chi Minh City and has become a favourite weekend destination for residents of Vietnam's largest city. There are a few pagodas around Vung Tau and you can hike up the two mountains on the nearby peninsula, but Vung Tau is primarily a party town with plenty of cafes, bars, restaurants and a few discos.
The main beach is Bai Sau (Back Beach) which stretches for about 8km at the east side of the town. Bai Dua (Roches Noire Beach) is 2km south of the town centre. The beach itself is quite rocky but is a great place to sit and watch the sunset. On the west side of the town is Bai Truoc (Front Beach). About 3km further north is Bai Dau (Mulberry Beach).
Other things to see are Thich Ca Phat Dai Pagoda and Park, the giant statue of Jesus (similar to the one in Rio de Janeiro) and Bach Dinh villa (a former royal residence. Golfers might like to try the international standard Paradise Marina Golf Club, but expect to pay international standard prices.
Getting There
Vung Tau is served by regular and minibus services from Ho Chi Min City that run from early morning to early evening. The 125km journey takes around 2 hours, and you can book tickets at most hotels and travel agents. There is also a regular hydrofoil service that departs from Ho Chi Min City several times per day and takes about 75 minutes. More.....
Hotels in Vung Tau | Places to Eat
RezEasy PMS
Cloud-based PMS offering real-time access from any desktop computer or tablet anytime, anywhere.
RezEasy Portal
Hotel Portal lets you make deals directly with accommodation owners and take bookings on your website.
RezEasy Booking Engine
Beat the steep commission structure that eats into your revenue by driving direct sales through your website.