Bac Ha
Bac Ha is located to the north-east of Sa Pa. Its tourism industry lags behind that of Sa Pa but things are improving. The town's main industry is the production of rice wine, cassava wine and a highly potent corn liquer.
The lively Sunday market is a good place to pick up handy crafts, or you can just wander around and admire the colourful dresses worn by the H'mong women. If you're felling more adventurous try a visit to Can Cau market which is a 20km drive from Bac Ha. The road is very bad so make sure your transportation is up to the job.
Getting There
Buses run to and from Lao Cai twice daily and take about 4 hours. The road is quite well maintained so you can sit back and enjoy the scenery.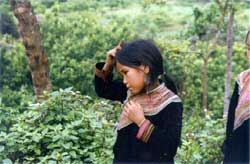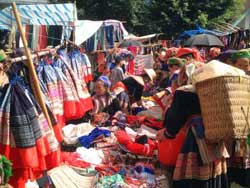 Hotels in Bac Ha
Below is a list of hotels in Bac Ha sorted by price range (highest first). If you wish to telephone a hotel the area code for Bac Ha is 020 (+8420 from outside Vietnam).
Sao Mai Hotel


Price Range: Up to $35 per night
Bac Ha (Tel: 880288, Fax: 880285)

Minh Quan Hotel


Price Range: Up to $25 per night
Bac Ha (Tel: 880222)

Anh Duong Geusthouse


Price Range: Up to $25 per night
Bac Ha (Tel:880438)

Dang Khoa Hotel


Price Range: Up to $25 per night
Bac Ha (Tel:880290)