Lao Cai
Lao Cai is the the place where travellers cross into China on their way to or from Kunming. Like Lang Son, Lao Cai was invaded by the Chinese in 1979 and the border was closed until 1993. On the opposite side of the river from Lao Cai is the Chinese town of Hekou.
Getting There
The best way to get to Lao Cai from Hanoi is by train which run twice daily. You can also make the 340km journay by bus but the train is far more comfortable.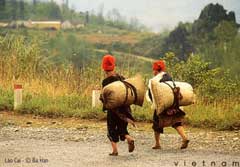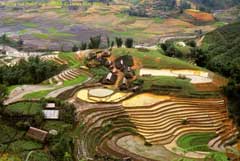 Hotels in Lao Cai
Below is a list of hotels in Lao Cai sorted by price range (highest first). If you wish to telephone a hotel the area code for Lao Cai is 020 (+8420 from outside Vietnam).
Duyen Hai Hotel


Price Range: Up to $25 per night
Lao Cai (Tel: 822086, Fax: 820172)

Hanoi Hotel


Price Range: Up to $25 per night
Lao Cai (Tel: 832486, Fax: 832488)

Hong Ha Hotel


Price Range: Up to $25 per night
Lao Cai (Tel: 830007)

Vat Tu Hotel


Price Range: Up to $25 per night
Lao Cai (Tel: 831540)

Song Hong Guesthouse


Price Range: Up to $25 per night
Lao Cai (Tel: 830004)

Binh Minh Hotel


Price Range: Up to $25 per night
Lao Cai (Tel: 830085)