Nha Trang
White sand beaches, clear turquoise water, excellent seafood and almost year round sun make Kha Trang one of the best beach destinations in Vietnam. From late January to the end of October is the best time visit. During November and December heavy rains raise water levels in the two rivers that run into the bay which can turn the water a little murky.
Scuba divers will love Nha Trang. There are around 25 dive sites and with visibility reaching 30 metres during the summer months you will not be disappointed. Several of the dive shops offer day trips that include lunch and two dives. First-time divers can take one of the supervised courses run by qualified dive masters.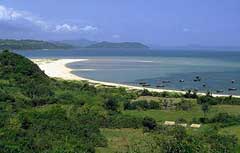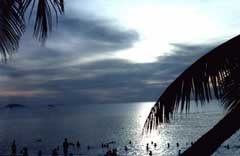 On the outskirts of Nha Trang is Thap Ba Hot Springs which offers bathing in hot mineral pools, swimming, butterfly garden, restaurant and cafe. You can get a close up view of local marine life at the Oceanographic Institute located in the port district, or visit Bao Dai' Villas 6km south of Nha Trang.
There are dozens of islands within easy reach of Nha Trang and a trip on one of the tours is highly recommended, Green Hat Boat Tours seems to be a favourite. The tours are geared to all tastes so if you want booze and sun or a more relaxed day snorkelling its best to ask for advice before opting for a particular tour. More.....
Getting There | Hotels in Nha Trang | Places to Eat