Phan Thiet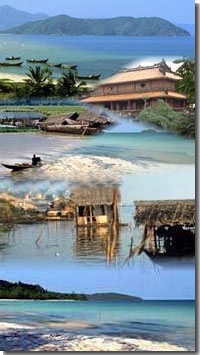 Phan Thiet is located 250km south of Nha Trang and 200km east of Ho Chi Minh City. The main reason to stay here is likely to be to get a few rounds in at the Ocean Dunes Golf Club. You can also visit nearby Mui Ne Beach 11km to the east.
Getting There
Buses rum from Ho Chi Minh City's Mien Dong bus station and take around 4½ hours to reach Phan Thiet. You can also book golf package tours at several of the travel agents in Ho Chi Minh City. These can include transportation, hotel and access to the golf club.
Hotels in Phan Thiet
Below is a list of hotels in Phan Thiet sorted by price range (highest first). If you wish to telephone a hotel the area code for Phan Thiet is 062 (+8462 from outside Vietnam).
Novotel Ocean Dunes Resort


Price Range: Up to $100 per night
Phan Thiet

Victoria Phan Thiet Resort


Price Range: From $95 per night
Km 9 Phu Hai, Phan Thiet

Saigon Mui Ne


Price Range: Up to $85 per night
Km 12.2 Ham Tien, Mui Ne Beach, Phan Thiet

Swiss Village Resort


Price Range: From $55 per night
Phan Thiet
The Palms (next to Ocean Dunes Golf Course)
Price Range: From $40 per night
Phan Thiet Tel: +84 62 810 226

Doi Duong Hotel


Price Range: Up to $40 per night
403 Vo Thi Sau, Phan Thiet (Tel: 822108, Fax: 825858)

Binh Minh Hotel


Price Range: Up to $35 per night
405 Vo Thi Sau, Phan Thiet (Tel: 823344, Fax: 823354)

Hotel 19-4


Price Range: Up to $35 per night
1 Tu Van Tu, Phan Thiet (Tel: 825216, Fax: 825184)

Thanh Cong Hotel


Price Range: Up to $25 per night
49-51 Tran Hung Dao, Phan Thiet (Tel: 825016, Fax: 823905)