Mong Cai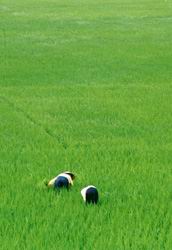 Mong Cai is in the north of Vietnam right on the Chinese border. It is a free trade zone so there is plenty of activity in the markets until they close around 3 or 4pm. Most of the trade is in cheap Chinese made consumer goods. Like Lang Son the town of Mong Cai was invaded by the Chinese in 1979. The incursion only lasted 17 days before the North Vietnamese troops drove back the invading army. Today the tensions of the past do not seem to hamper the cross border trade, and there is little outward evidence of any animosity between the two communities.
Getting There
The trip from Hanoi takes about 9 to 10 hours by bus. The quickest route is by hydrofoil from Halong City which takes about 3 hours.
Hotels in Mong Cai
Below is a list of hotels in Mong Cai sorted by price range (highest first). If you wish to telephone a hotel the area code for Mong Cai is 033 (+8433 from outside Vietnam).
Nha Nghi Cao Son Hotel


Price Range: Up to $35 per night
Mong Cai (Tel: )

Thien Huong Hotel


Price Range: Up to $35 per night
Mong Cai (Tel: 882429)

Thang Loi Hotel


Price Range: Up to $25 per night
Mong Cai (Tel: 881002)

Viet Thai Hotel


Price Range: Up to $25 per night
, Mong Cai (Tel: 881070)