Hue
Hue is located 690km south of Hanoi, 110km north of Danang and 1100km from Ho Chi Minh City. Its monuments are yet another place that has been designated as a World Heritage site by UNESCO. There is certainly much to see in Hue and the surrounding area. The city itself is built on either side of the Perfume River with most of the hotels, restaurants and shops on the south side and the Citadel on the north side.
Hue's main attraction is the Royal Tombs of the Nguyen Dynasty (1802-1945) which are constructed along the banks of the Perfume River. Most of the tombs are in a walled compound and contain a pavilion with an engraved marble tablet, a temple, the sepulchre where the emperor is buried, a courtyard and lotus pond. Although the tombs follow the same basic layout each is unique in its structure and design, the most impressive is the tomb of Minh Mang who ruled from 1820 to 1840. The site is open daily and is about 15 to 30 minutes from Hue.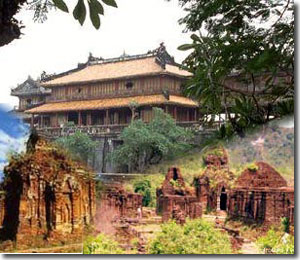 Construction of the Citadel, which is located on the north side of the river, began in 1804. In the early 19th century the original earth construction was cover by a 2 metre thick layer of bricks. The ramparts are surrounded by a 30 metre wide moat, and each of the 10 fortified gates is reached via a bridge spanning the moat.
Amongst the other places to see in Hue are the Imperial Museum, Ho Chi Minh Museum, Notre Dame Cathedral, Phu Cam Cathedral, several pagodas, an Indian Mosque, and assembly halls. 7km east of Hue's centre is a covered Japanese bridge (Thanh Toan) similar to the one in Hoi An. Several of the former pupils of the National School on Le Loi have risen to prominent positions within Vietnam. You can visit the school in late afternoon after classes have finished. More....
Getting There | Places to Eat | Hotels in Hue
RezEasy PMS
Cloud-based PMS offering real-time access from any desktop computer or tablet anytime, anywhere.
RezEasy Portal
Hotel Portal lets you make deals directly with accommodation owners and take bookings on your website.
RezEasy Booking Engine
Beat the steep commission structure that eats into your revenue by driving direct sales through your website.