Da Nang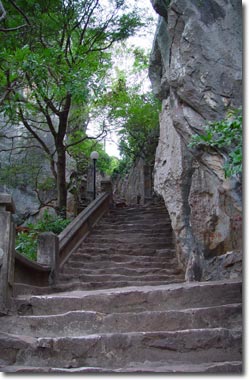 Hoi An is 30km to the south and Hue just over 100km to the north. China Beach and the Marble Mountains lie to the south of the city and can be reached by taxi within 20 minutes.
Vietnam Airlines have twice daily flights to Danang from both Hanoi and Ho Chi Minh City. There are also a few international flights to Bangkok, Singapore and Hong Kong. The airport is just a few minutes drive from the centre of the city. There are plenty of places offering car hire, including driver, at quite economical rates. Expect to pay around $15 for the return trip to China Beach and Marble Mountains, and around $20 for a half day trip to Hoi An.
You will find many places to stay in Danang ranging from the budget to moderately expensive. Beach side accommodation is also available just outside the city.
Danang has a good selection of restaurants serving a variety of food including Western dishes. You will also find several lively bars and night spots throughout the city. More....
What to See | Where to Stay | Where to Eat
RezEasy PMS
Cloud-based PMS offering real-time access from any desktop computer or tablet anytime, anywhere.
RezEasy Portal
Hotel Portal lets you make deals directly with accommodation owners and take bookings on your website.
RezEasy Booking Engine
Beat the steep commission structure that eats into your revenue by driving direct sales through your website.