Can Tho
Can Tho is the provincial capitol of the Mekong Delta and is located about 170km south-west of Ho Chi Minh City. This is a great base from which to explore the surrounding area. You can organize boat trips along the many rivers and canals at the local tourist office on Hai Ba Trung. If you prefer to make your own arrangements walk down to the market (also on Hai Ba Trung) and bargain with the boat owners. There are plenty of them arround and most will be willing to take you out for around $3 to $4 per hour.
Most popular trips are to the floating markets. Cai Rang is the largest and is only 6km from Can Tho. Phong Dien is 20km to the south-west and is best reached by raod. You need to be at the markets early morning, between 6am and 8am is the best time.
If you take one of the larger motor boats you can visit the Mekong River. It's best to take an organized tour or ask around to see if other will share the cost.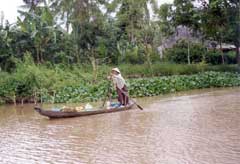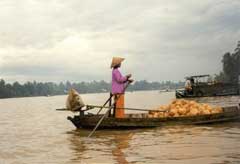 Getting There
Buses from the Mien Tay bus station in Ho Chi Minh City and take around 5 to 6 hours to reach Can Tho. The quickest way to Can Tho from Ho Chi Minh City is by hydrofoil which takes around 3½ hours.
Places to eat
There are several good restaurants along the waterfront and scattered throught the town. If you feel like something special try the Nam Bo on Hai Ba Trung.
Hotels in Can Tho
Below is a list of hotels in Can Tho sorted by price range (highest first). Online booking is available for all recommended hotels, click the hotel name to view details. If you wish to telephone a hotel the area code for Can Tho is 071 (+8471 from outside Vietnam).
Victoria Can Tho


Price Range: From $90 per night
Cai Khe Ward, Can Tho

Hoa Binh Hotel


Price Range: Up to $70 per night
5 Hoa Binh, Can Tho (Tel: 820059, Fax: 810217)

Saigon-Canto Hotel


Price Range: Up to $65 per night
55 Phan Dinh, Can Tho (Tel: 825831, Fax: 823288)

Quoc Te Hotel


Price Range: Up to $65 per night
12 Hai Ba Trung, Can Tho (Tel: 822080, Fax: 821039)

Asia Hotel


Price Range: Up to $45 per night
91 Chua Van Liem, Can Tho (Tel: 822130, Fax: 812779)

Tay Do Hotel


Price Range: Up to $45 per night
61 Chua Van Liem, Can Tho (Tel: 827099, Fax: 821104)

Can Tho Hotel


Price Range: Up to $50 per night
80A Nguyen Trai, Can Tho (Tel: 823623)

Ngan Ha Hotel


Price Range: Up to $35 per night
39-41 Ngo Quyen, Can Tho (Tel: 822921, Fax: 823473)