Ben Tre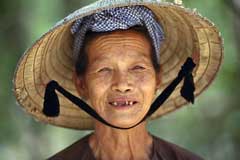 Ben Tre is located on the banks of the Mekong river and is about 12km south of Mytho. Vien Minh Pagoda is located in the centre of the town, a few minutes walk to the north you will find Truc Giang Lake where you can hire paddle boats. Boat trips to the area surrounding Ben Tre can be orgainised at the tourist office at 65 Dong Khoi.
Getting There
Take a motorcycle or hire car from Mytho and then the ferry to Ben Tre. Although the total journay is quite short it can take you 1½ to make the trip depending on the timing of the ferry.
Hotels in Ben Tre
Below is a list of hotels in Ben Tre sorted by price range (highest first). If you wish to telephone a hotel the area code for Ben Tre is 075 (+8475 from outside Vietnam).
Dong Khoi Hotel


Price Range: Up to $40 per night
16 Hai Ba Trung, Ben Tre (Tel: 822240)

Trade Union Hotel


Price Range: Up to $35 per night
50 Hai Ba Trung, Ben Tre (Tel: 825082)

Government Guesthouse


Price Range: Up to $35 per night
148 Hung Vuong, Ben Tre (Tel: 826134)

Ben Tre Hotel


Price Range: Up to $25 per night
8/2 Tran Quoc Tuan, Ben Tre (Tel: 822223)