Thap Cham & Phan Rang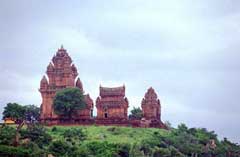 Nha Trang and Phan Thiet. The main attraction is a group of Cham towers called Po Klong Garai. The towers were originally built as Hindu temples in the 13th century. They are quite well preserved and offer a good insight into the construction techniques used by the Cham. The site contains several statues and carvings of Hindu gods including Shiva.
Getting There
Buses run from Mien Dong station in Ho Chi Minh City for the 340km journey to Thap Cham. You can also get a car or minibus from Nha Trang, Phan Thiet or Dalat.
Hotels in Thap Cham & Phan Rang
Below is a list of hotels in Thap Cham & Phan Rang sorted by price range (highest first). If you wish to telephone a hotel the area code for Thap Cham or Phan Rang is 068 (+8468 from outside Vietnam).
Thong Nhat Hotel


Price Range: Up to $40 per night
99 Thong Ngat, Thap Cham (Tel: 825406, Fax: 822943)

Ninh Thuan Hotel


Price Range: Up to $40 per night
1 Le Hong Phong, Thap Cham (Tel: 827100, Fax: 822142)

Huu Nghi


Price Range: Up to $35 per night
354 Thong Ghat (Tel: 822606)