Central Vietnam
The central region is considered by some to be the cultural centre of Vietnam. It is here that you can see the remains of ancient Cham civilizations at My Son, the Royal Tombs of the Nguyen Dynasty in the city of Hue, and the picturesque village of Hoi An which has been designated as a World heritage Centre site by UNESCO.
Place names in this area will be familiar to those who watched the news casts of the late 60's and early 70's. Danang, the Demilitarized Zone (DMZ) and My Lai the scene of one of the most tragic events of the Vietnam-American war.
Use the links below or click a place on the map to find out more information.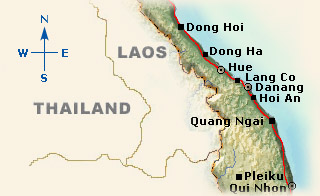 RezEasy PMS
Cloud-based PMS offering real-time access from any desktop computer or tablet anytime, anywhere.
RezEasy Portal
Hotel Portal lets you make deals directly with accommodation owners and take bookings on your website.
RezEasy Booking Engine
Beat the steep commission structure that eats into your revenue by driving direct sales through your website.