Bai Tu Long Bay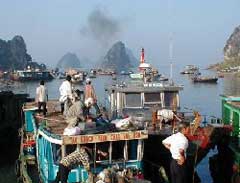 This is a good destination for a day trip from Halong Bay. The scenery is every bit as spectacular as its more famous neighbour but Bai Tu Long Bay does not attract any where near the same number of visitors.
Getting There
Charter a boat from Halong Bay for the five hour journey. It's best to try and organise a party large enough to fill the boat (around 15 to 20 people) otherwise the trip can be a little expensive.
Hotels in Bai Tu Long Bay
There are many hotels in nearby Halong Bay
RezEasy PMS
Cloud-based PMS offering real-time access from any desktop computer or tablet anytime, anywhere.
RezEasy Portal
Hotel Portal lets you make deals directly with accommodation owners and take bookings on your website.
RezEasy Booking Engine
Beat the steep commission structure that eats into your revenue by driving direct sales through your website.