Pleiku
The killing of 8 American soldiers, in 1965, at the US compound in Pleiku was used by President Johnson as justification to begin a massive bombing campain against north Vietnam. The town was burnt to the ground in 1973 after the south Vietnamese troops and the civilian population fled as the north Vietnamese advanced southward. In 1980 the city was rebuilt with the assistence of the Soviet Union. Unfortunately much of the Vietnamese character was lost in the rebuilding process.
Places to visit are Bien HO (Sea Lake) which is 7km to the north or Yala falls (the latter only worth visiting during the rainy season).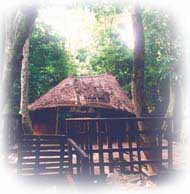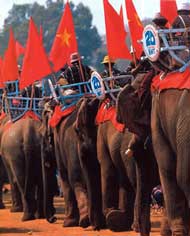 Getting There
Vietnam Airlines runs flights form Hanoi (via Danang) and Ho Chi Minh City 5 times per week. There is also a bus service from Danang and Nha Trang.
Hotels in Pleiku
Below is a list of hotels in Pleiku sorted by price range (highest first). If you wish to telephone a hotel the area code for Pleiku is 059 (+8459 from outside Vietnam).
Plieku Hotel


Price Range: Up to $45 per night
151 Le Loi, Pleiku (Tel: 824628, Fax: 822151)

Hung Vuong Hotel


Price Range: Up to $50 per night
215 Hung Vuong, Pleiku (Tel: 824270)

Movie Star Hotel


Price Range: Up to $25 per night
6 Vo Thi Sau, Pleiku (Tel: 823855, Fax: 823700)

Laly Hotel


Price Range: Up to $25 per night
89 Hung Vuong, Pleiku (Tel: 824843, Fax: 827619)

Vinh Hoi Hotel


Price Range: Up to $25 per night
39 Tran Phu, Pleiku (Tel: 824644, Fax: 871305)

Thahn Lich Hotel


Price Range: Up to $25 per night
86 Nguyen Van Troi, Pleiku (Tel: 824674)