Phu Quoc Island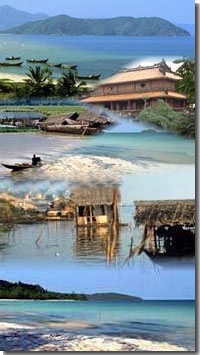 Phu Quoc island is in the Gulf of Thailand just 15km from the Cambodian coast. Much of the north end of the island is covered by a military base there, no doubt, to reinforce the fact that the island is part of Vietnam and not Cambodia. The island covers 1320 sq km and is ringed by some of the best beaches in Vietnam and clear turquoise water.
Long Beach stretches almost 20km from the main port, Duong Dong, to An Thoi. If you visit the more remote areas of the beach take drinks and a picnic since you may not find any cafes nearby. The best beach is Bai Khem which is at the south-east part of the island. This is in a military area but you are allowed to visit, ask at your hotel beforehand.
Getting There
Vietnam Airlines flies to Phu Quoc from Ho Chi Minh City daily (on some flights there is a short stopover at Rach Gia). If you are travelling overland you will have to catch a ferry from Rach Gia.
Hotels in Phu Quoc Island
Below is a list of hotels in Phu Quoc Island sorted by price range (highest first). If you wish to telephone a hotel the area code for Phu Quoc Island is 077 (+8477 from outside Vietnam).
Saigon Phu Quoc Resort


Price Range: From $41 per night
Duong Dong Town , Phu Quoc

Tropicana Resort


Price Range: Up to $50 per night
Long Beach, Phu Quoc (Tel: 846611, Fax: 847128)

Huong Bien Hotel


Price Range: Up to $35 per night
Long Beach, Phu Quoc (Tel: 846113)

Phu Quoc Resort


Price Range: Up to $35 per night
Ong Lang Beach, Phu Quoc (Tel: 091-919891)

Kim Hoa Resort


Price Range: Up to $25 per night
Long Beach, Phu Quoc (Tel: 847039, Fax: 846144)

Van Nguyen Hotel


Price Range: Up to $25 per night
Duong Dong, Phu Quoc (Tel: 847133, Fax: 846229)

Hong Hahn Hotel


Price Range: Up to $25 per night
Duong Dong, Phu Quoc (Tel: 847187)

Thang Loi Bungalows


Price Range: Up to $20 per night
Ong Lang Beach, Phu Quoc (Tel: 0918 073494 Fax: 846144)