Halong Bay - Vietnam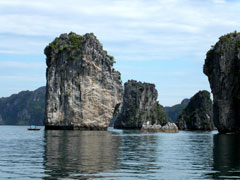 Halong Bay was designated a World Heritage Site in 1994 by UNESCO and it is easy to see why. The emerald green water and 3000+ islands cover almost 1500 sq km. This is the number one tourist destination of north Vietnam and attracts many thousands of visitors each year. It is best to avoid the period from February to April since the weather is sometimes cool with fog or drizzle.
Apart form the scenery one of the major attractions of Halong Bay is the many caves and grottoes. Hnag Dua Go is probably the biggest and comprises a huge cavern with 3 chambers. The chambers boast many stalactites, stalagmites and sparkling cavern walls. You can also visit Drum Grotto, Bo Nau, Hang Hanh Cave which is almost 2km long, or watch the locals diving for oysters in Hang Ca Cave. By far the most spectacular caves is the Thien Cung complex. Here the cave interior has been beautifully illuminated to bring out its full splendor.
Most of the islands in Halong Bay are undeveloped but don't let that deter you from taking one of the many of the organised boat trips. Some of the most frequently visited are Deu, Ngoc Vung and Tuan Chau, the latter being the location of Ho Chi Minh's former summer residence.
Getting There
The best way to organise a trip to Halong Bay is to book a tour with one of the agents, hotels or cafes in Hanoi. Costs vary but all are reasonably priced and usually include accommodation as well as transportation to and from Hanoi. Most tours will include boat trips to Halongs many islands and a visit to the caves. You can also combine the trip with a stay on nearby Cat Ba Island.
If you don't mnd the cost there are helicopter services from Hanoi to Halong (cost around $200 for the round trip).
Bai Tu Long Bay | Cat Ba Island
Places to Stay | Places to Eat
RezEasy PMS
Cloud-based PMS offering real-time access from any desktop computer or tablet anytime, anywhere.
RezEasy Portal
Hotel Portal lets you make deals directly with accommodation owners and take bookings on your website.
RezEasy Booking Engine
Beat the steep commission structure that eats into your revenue by driving direct sales through your website.