Bao Loc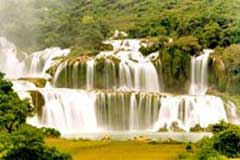 Bao Loc is on Highway 20 around 100km from Dalat and 130km from Ho Chi Minh City. This is a good stopping off point if you intend to visit Di Linh. Not far from Bao Loc is the spectacular Dambri falls. You can either walk to the top of the falls or take the cable car. It is well making the effort since you will be rewarded with one of the most breathtaking views in the Vietnam.
Getting There
You can take the bus from either Ho Chi Minh City or Dalat. Many visitors will use Bao Loc as a stop off point on their way to Dalat.
Hotels in Bao Loc
Below is a list of hotels in Bao Loc sorted by price range (highest first). If you wish to telephone a hotel the area code for Bao Loc is 063 (+8463 from outside Vietnam).
Viseri Hotel
Price Range: Up to $45 per night
on the lakeside, Bao Loc (Tel: 864150, Fax: 864430)
Thanh Van 1 Hotel
Price Range: Up to $35 per night
65 Le Hong Phong, Bao Loc (Tel: 863005)
Bao Loc Hotel
Price Range: Up to $25 per night
795 Tran Phu, Bao Loc (Tel: 864107)
RezEasy PMS
Cloud-based PMS offering real-time access from any desktop computer or tablet anytime, anywhere.
RezEasy Portal
Hotel Portal lets you make deals directly with accommodation owners and take bookings on your website.
RezEasy Booking Engine
Beat the steep commission structure that eats into your revenue by driving direct sales through your website.