SaPa
Nestled in the rugged highlands of Vietnam's far north lies one of Asia's best kept secrets - an idyllic valley hidden away from the modern world, where life beats to a rhythm that has not changed in hundreds of years. Just a stone's throw from the Chinese border in the mountainous province of Lao Cai, the township of Sapa is the gateway into a fairy tale world of colourful hill tribes who continue to reject the trappings of the modern world in favour of their time-honoured traditions.
Sapa offers the intrepid traveler a rare glimpse into a way of life that has all but vanished from the rest of Asia. Here you will find no welcome mats or rehearsed "cultural" parades, just real people living real lives who greet visitors with genuine warmth.
The township sits atop of a picturesque valley where the sheer hillsides have been sculptured into spectacular stairways of terraced rice paddies rising hundreds of metres above the fertile valley floor, creating a scene that appears other-worldly. The entire region is populated by hill tribe groups such as H'mong, Dzao, Tay and Tai, with the Vietnamese very much in the minority. Members of the various groups fiercely defend their cultural identities and maintain traditional dress at all times. Costumes are highly colourful and the intricately embroidered textiles are renowned throughout the country.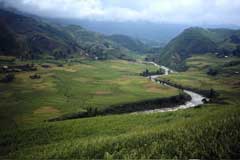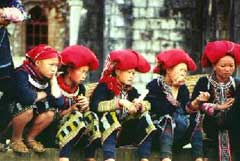 While the township itself, which was built by the French as a hill station in 1922, has seen a moderate amount of development such as small hotels, cafes and souvenirs shops to cater to the tourists who venture to this wild frontier region, life remains unchanged in the dozens of ethnic minority villages scattered throughout the valley below.
Sapa serves as the region's commercial centre and hosts a colourful market each weekend. This is a major social event for the minorities, where members of various villages meet to eat and drink and pick up essential provisions.
Visitors to Vietnam all agree that Sapa is the country's crown jewel. The combination of fresh mountain air, relaxed ambience, sweeping panoramas and fascinating hill tribes make Sapa a must-visit destination.
Getting there from Hanoi involves a pleasant overnight train ride to the province capital of Lao Cai, then a two hour bus ride up the steep maintain road to Sapa town.
Apart from the spectacular natural setting and fascinating local inhabitants, Sapa also makes a welcome break from the summer heat of Hanoi, with temperatures several degrees below those on the coast. However, temperatures in the winter months can plunge to below freezing, so be sure to bring enough winter woollies if visiting from December though to March.
Hotels in Sapa | Getting There
RezEasy PMS
Cloud-based PMS offering real-time access from any desktop computer or tablet anytime, anywhere.
RezEasy Portal
Hotel Portal lets you make deals directly with accommodation owners and take bookings on your website.
RezEasy Booking Engine
Beat the steep commission structure that eats into your revenue by driving direct sales through your website.