Danang - Places to Visit
China Beach
The name "China Beach" was made famous during the Vietnamese war and stretches for almost 30k. It actually comprises several areas each with its own local name. The most popular area is My Khe located about 6km from the centre of Danang. The sea can be quite rough with strong currents so if you intend to go swimming seek local advice first. Experienced surfer will find good conditions from September through December.
Marble Mountains
Located about 9km to the south east of Danang these five stone hills are said to represent the five elements (fire, water, wood, metal and earth). Three of the mounts Hoa Son, Thuy Son and Kim Son have been opened to visitors. The largest, Thuy Son, has a series of steps carved into its side which makes access reasonably easy. Several of the caves in the Marble Mountains were used as Buddhist sanctuaries and are easily accessible to visitors. Entrance fee to Thuy Son costs $0.70 and guides are available.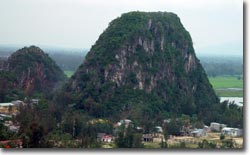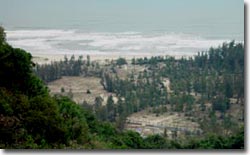 Hai Van Pass
30km north of Danang is Hai Van Pass which offers some quite spectacular views. You can take a bus which stops for 10 to 15 minutes at the top of the pass or hire a car and driver in Danang if you want to spend longer or stop off to take photographs. Cost of the return trip is negotiable but expect to pay around $25 (per car).
Ba Na Hill Station
Situated 45km west of Danang and almost 1500m above sea level the area around the hill station has quite magnificent views. You can take a bus from Danang. When you get to the bottom of the access road you will have to change to the shuttle bus. Total cost of the trip is around $2 per person. A car and driver will cost around $25 to $30 (per car) for the return trip from Danang to the top of Mount Ba Na.
Getting There | Places to Stay | Places to Eat
RezEasy PMS
Cloud-based PMS offering real-time access from any desktop computer or tablet anytime, anywhere.
RezEasy Portal
Hotel Portal lets you make deals directly with accommodation owners and take bookings on your website.
RezEasy Booking Engine
Beat the steep commission structure that eats into your revenue by driving direct sales through your website.