Cao Lanh
Cao Lanh is located in the Mekong Delta about 150km by road from Ho Chi Minh City. At the south-west corner of the town you will find the tomb of Nguyen Sinh Sac, Ho Chi Minh's father. Boat tours of the bird sactuaries and the Rung Tram forest can be organised by Dong Thap Tourist which is located on Hung Vuong. If you go with a group a half day tour can cost as little as $2 to $3.
White Stork Bird Sanctuary is to the north-east of Cao Lanh, about 45 to 90 minutes by boat. It is quite small but has the advantage that the birds have become accustomed to people so are fairly easy to spot.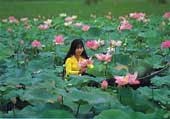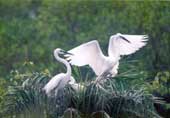 Nearby Rung Tram was used by the VC during the American-Vietnam war as a base from which their generals directed the fighting. The area is a huge swamp covered by a dense canopy of trees and vines. You can reach Rung Tham in 30 minutes by boat from Cao Lanh. About 45km to the north of Cao Lanh is the Tram Chim Nature Reserve. If you are a keen bird watcher be prepared to be in Tram Cim by dawn otherwise you will see very little.
Getting There
There are a direct bus services from Ho Chi Minh City and Can Tho
Hotels in Cao Lanh
Below is a list of hotels in Cao Lanh sorted by price range (highest first). If you wish to telephone a hotel the area code for Cao Lanh is 067 (+8467 from outside Vietnam).
Song Tra Hotel


Price Range: Up to $40 per night
Nuyen Hue, Cao Lanh (Tel: 852504, Fax: 852623)

Hoa Binh Hotel


Price Range: Up to $50 per night
Nguyen Hue/Highway 30, Cao Lanh (Tel: 851469, Fax: 851218)

Xuan Mai Hotel


Price Range: Up to $25 per night
Le Qui Don, Cao Lanh (Tel: 852852, Fax: 853058)

Thien An Hotel


Price Range: Up to $25 per night
Nguyen Hue/Highway 30, Cao Lanh (Tel: 853041)