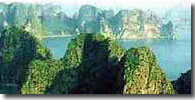 Halong Bay - Places to Eat
Halong Bay has no shortage of places to eat catering to most tastes and budgets, but don't expect to find any of the large foreign fast food chains. Seafood is, of course, readily available and quite delicious.
Hotels in Halong Bay
Below is a list of hotels in Halong Bay sorted by price range (highest first). If you wish to telephone a hotel the area code for Halong is 033 (+8433 from outside Vietnam).
Halong Plaza


Price Range: Up to $100 per night
8 Ha Long Road, Bai Chay Beach, Halong City

Saigon Halong Hotel


Price Range: Up to $100 per night
Halong Road - Bai Chay Beach, Ha Long

Halong III


Price Range: Up to $85 per night
Halong Road, Bai Chay Beach, Halong City

Heritage


Price Range: Up to $85 per night
Ha Long Road, Bai Chay Beach, Halong City

Suoi Mo Hotel


Price Range: Up to $50 per night
Ha Long Road- Bai Chay, Ha Long (Tel: 846 729)

Hai Long Hotel


Price Range: Up to $25 per night
Vuon Dao - Bai Chay Beach, Ha Long (Tel: 846 378/ 844 237)

Hong Minh Hotel


Price Range: Up to $25 per night
21 Ha Long Road, Ha Long (Tel: 846 733)

Thanh Nien Hotel


Price Range: Up to $25 per night
Ha Long Road - Bai Chay Beach, Ha Long (Tel: 846 715/ 846 464)

Halong Bay


Price Range: Up to $65 per night
Halong Road, Halong City

Halong I


Price Range: Up to $65 per night
Halong Road, Bai Chay Beach, Halong City

Halong II


Price Range: Up to $65 per night
Halong Road, Bai Chay Beach, Halong City

Bach Dang Hotel


Price Range: Up to $85 per night
2 Ha Long Road, Ha Long (Tel: 846 330/ 846 415)

Hong Gai Hotel


Price Range: Up to $50 per night
Ha Long Road - Bai Chay Beach, Ha Long (Tel: 846 258/ 847 684)
Ha Long Bay | Bai Tu Long Bay | Cat Ba Island | Places to Eat