Phat Diem
Phat Diem is located 120km south of Hanoi and 30km south-east of Ninh Binh. It's main point of interest is a large cathedral with unusual Sino-Vietnamese architecture. The ceiling is supprted by huge 1 metre diameter wooden columns and there is a solid granite alter plus a number of wood and stone carvings. The cathedrals highest tower sports a huge bell, at the base of the tower are two huge stone slabs which apparently were used by the Mandarins as a means to observe the catholic mass.
Getting There
The easiest route is by motorcycle or car from Ninh Binh. You may also be able to combine a trip to Phat Diem with a custom tour of Ninh Binh or one of the nearby national parks.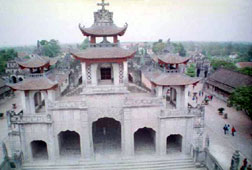 RezEasy PMS
Cloud-based PMS offering real-time access from any desktop computer or tablet anytime, anywhere.
RezEasy Portal
Hotel Portal lets you make deals directly with accommodation owners and take bookings on your website.
RezEasy Booking Engine
Beat the steep commission structure that eats into your revenue by driving direct sales through your website.