My Son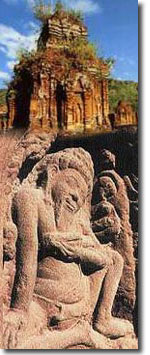 In 2000 UNESCO declared My Son as a World Hertigae Site, and it is by far the most important Cham site in Vietnam. My Son is easily reached from either Danang or Hoi An.
The ancient Champa Kingdom ran from Danang to Nha Trang in the south. It was heavily influenced by Indian culture and the Chams adopted Sanskrit as a sacred language as well as adopting Hinduism. My Son was a religious centre from around 400 AD until about 1300. Many of the temples were dedicated to Shiva who was regarded as protector of Champa's dynasties.
American bombing destroyed much of My Son during the Vietnam-American war, but around 20 of the monuments escaped total devastation. The Vietnamese authorities are attempting to restore the remaining sites.
Getting There
You can hire a car in either Danag or Hoi An to make the trip to My Son, or you can join one of the tour groups. If you decide to go independently it is best to get there early morning before the first of the tour groups arrive.
Hotels in My Son
You will find plenty of places to stay in nearby Danang or Hoi An.
RezEasy PMS
Cloud-based PMS offering real-time access from any desktop computer or tablet anytime, anywhere.
RezEasy Portal
Hotel Portal lets you make deals directly with accommodation owners and take bookings on your website.
RezEasy Booking Engine
Beat the steep commission structure that eats into your revenue by driving direct sales through your website.